Mobility (Nissan Cube)
By: Studio Makkink & Bey
Commissioned by: Nissan
Context: exhibition featuring the Nissan Cube
Year: 2009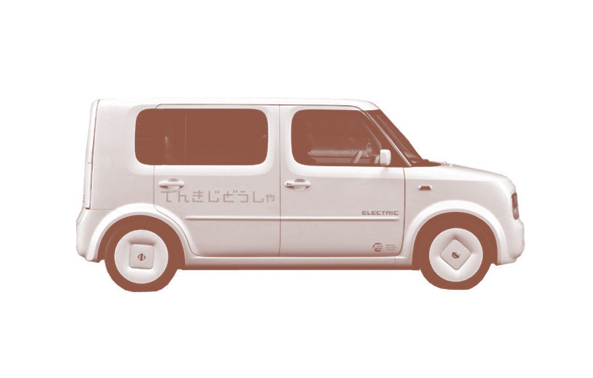 Introduction
Studio Makkink & Bey was asked by Nissan to design an exhibition featuring a new car: the Nissan cube. Connections between general culture and design are shown on three platforms displaying three scenarios with a vision departing from the Nissan cube.
The emergence of the automobile during the first part of the twentieth century led to prominent changes in society. It gave rise to a car culture inciting new views on life and a different cast of our environment. Larger parts of the world came within reach for a growing number of people, lengthy journeys became quick trips and were easier to undertake. The urban domain grew to be a bigger, pluralized place where people share brief moments of contact. At the same time the world shrunk, due to the same increased accessibility, with little places left untraveled and local cultural differences evening out. These movements are still in progress and an object such as the car needs to transform alongside the continuously wavering conditions, to help us navigate through the world.
The imprints of mobility on the landscape have been substantial since the arrival of the car as means for individual transport for the masses. The car is an important component in the public domain, its presence is irreversable. The utilitarian requirements of todays cars have changed. Velocity is becoming a secundary principle when thinking about the core function of cars. Increased car velocity, enabled by technology, correlates negatively with the speed of traffic, disabled by daily reality. Glutted, cluttered roads and highways don't allow drivers to come anywhere close to the top speed of their vehicles.
The scenery in which cars move around, has deteriorated. Motorways have changed from well groomed roads into littered lanes of aggrevation. If we would attend to these places the way we take care of areas for private use, with the same standards for hygiene and attention to maintainance, these public domains could be given a degree of refinement found in interior, or private spaces. A slower traffic pace and the use of mobile communication devices push the main utilities of a car towards an emphasis on interior functions. This shift is already manifest in the latest car models. The way velocity dictated a streamlined exterior, its use as a dwelling place can be found in the box-like shape of newly emerging car designs.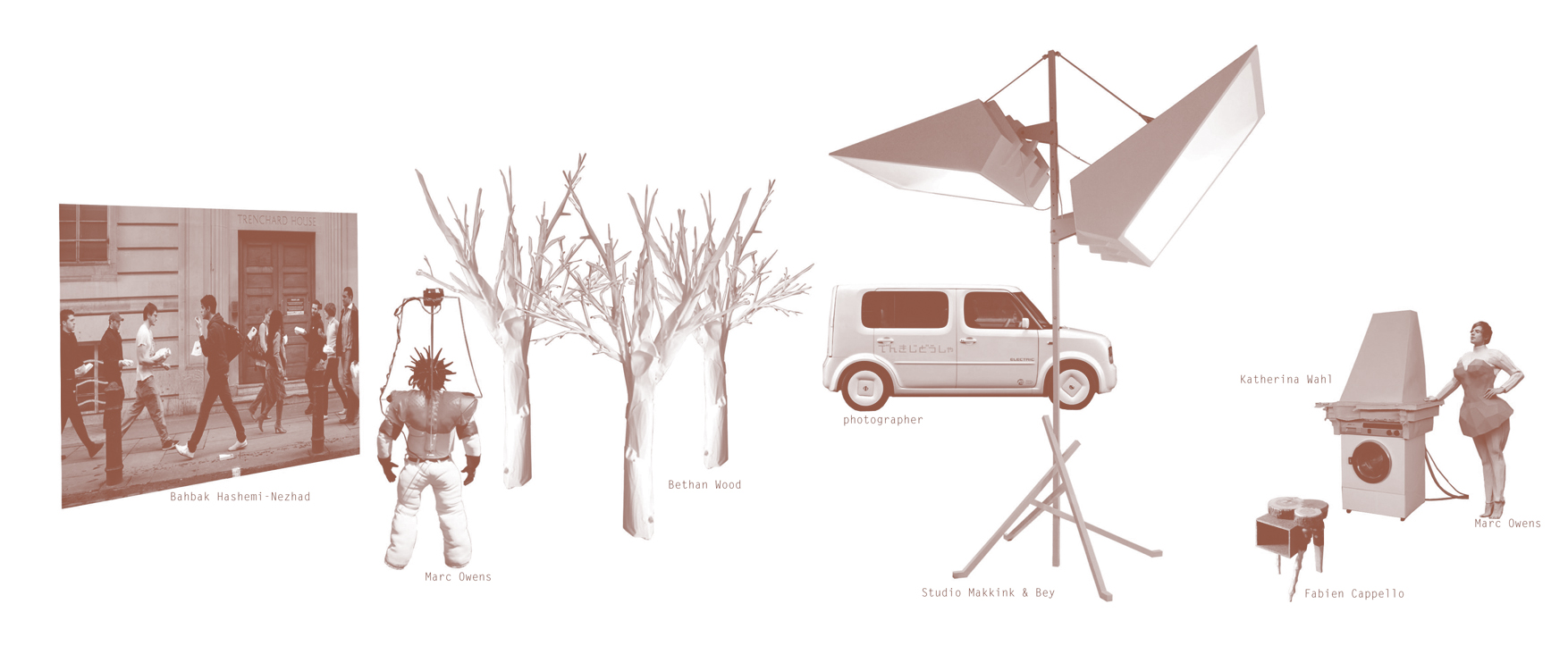 Roadside Tourism 
A new pastime came into fashion by the side of the first highways, since the car first appeared in our culture. Road side tourism spontaneously emerged when more car-owners filled the roads and motorways started to come to life. Tourists wouldn't turn around, away from the road, to watch the scenic view – they would sit there to look at the cars rushing by. This fit the postwar view in which technological progress was celebrated, the car was a symbol of a better world to come. Halfway a two-hour drive to visit the grandparents, a family would have a lunch-break by the side of the road. Neatly dressed and equipped with nice tableware and food, the family would take the time to enjoy the traffic and fuel up for the journey ahead.
In the hyperconnected present, activities are fragmented and can take place at anytime, everywhere. Leisure is found in the moments in-between. With the pace of traffic occasionally slowing down to a point where the focus on safety, other drivers and the road is allowed to drift away – an opportunity for a pastime opens up. Unwinding during a drive seems hard to imagine, considering most roadside areas and recreational spaces have become unfriendly litter grounds with huge garbage containers for people to throw their waste in. In stead of giving ugliness and disregard a platform, an attractively fashioned setting could envoke a more respectful and elegant conduct on the fringes of infrastructure. Using advanced technology and materials, shared ownership; mixing public and private properties in various ways – these areas could be placed in the vanguard of public culture.

Cityscape
Increased mobility on several levels effects the social construct of cities. The framework of cities is less divided into separate neighbourhoods as it used to be, a city has become a busy network of interconnectedness. As a result its social structure is more dispersed, with short encounters between city inhabitants of a bigger area. A network of individuals, rather than an encapsulated community, requires personal spaces; public spaces with the reposed comfort of private or inner spaces. A city's entire network could be used as a machine to serve its citizens by making use of existent components within the city. A production chain could become an assembly line where byproducts, left-over goods and redundant commodities are used for transport, food supply and other necessities.
Existing movements in a city can form the basis for new systems of appropriation in order to make highly functional environments which coincide with the constant changes in these environments. The yearly celebration of Christmas yields vast amounts of pine wood into urban areas, all left by the side of the road after the holidays. In a work such as the Christmas Tree Stool, by Fabien Capello, a recurrent event is implemented in the design process to reduce waste of material and transform the short-lived purpose of the Christmas tree into a permanent object.

Living and Working
From symbol of personal freedom and mark of status the car has grown to be a fortified vehicle in which drivers squeeze themselves through congested roads. Every day, cars clog together into tidal sluggish streams. Cabined in this private enclosure, people permeate the public space in order to get to their destinations. The inside of a car is where a growing number of people spend most of their day, which necessitates conditions with a more intimate, comfortable and private character.
For a moment, when the surrounding traffic has slowed down to a standstill, the car becomes an office or a waiting room. In traffic jams, it is a breakfast place to sneak a cup of coffee, or you can take time to keep up with the latest news by listening or viewing broadcasts, to read the newspaper. In hasty passage from one place to another, you can quickly change into formal clothing or apply some lipstick in the rearview mirror, making the car a provisional dressing room. The use of smart mobile devices such as laptops, and phones keep us in constant contact with our networks, it unties us from geographically fixed offices or other locations where we conduct specific tasks. The car often becomes an office in transit. It is another addition to the list of complementary functions assigned to cars in an increasingly networked, complex society. It proves pointy aerodynamics redundant in designing a travelling room.
Exhibitors
China 'Drawn From Clay'
2009
Atelier NL
Traditional china
Antiques
Royal Tichelaar Makkum
2009
Dick van Hoff
Deluxe Bench
2000 – 2007
Ineke Hans
Bed
2008
2009
Lotty Lindeman
Outfits by Alexander van Slobbe en Francisco van Benthum
2008
Lamps 'Reeds'
2007
Simon Heijdens
2010
Frank Bruggeman
Metropolitan World Atlas
2003
Joost Grootens
2008
Studio Makkink & BeyKAdE Chair
2008
Studio Makkink & BeySlow Car
2009
Studio Makkink & BeyPROOFF floor panels
2009
Studio Makkink & Bey
Paper Tree
2009
Bethan Wood
2009
Fabien Capello
'Orderly Conduct',  Amsterdam 'Cash Machine'
2008
Bahbak Hashemi-Nezhad
'Orderly Conduct', London 'Holding Hands'
2008
Bahbak Hashemi-Nezhad
'Avatar Suit'
2009
Marc Owens
2009
Katharina Wahl
2008
Maja Ganszyniec
2005
Tanja Seiner